This post is about my 2 cents about upgrading from Windows 7 pro x64 to Windows 8 pro. I have been a Windows user since 3.11 and have never upgraded a Windows installation. I have been clean installing all versions.
Hardware background
My Dell notebook is from 2009. It had Vista installed by default and was ready for Windows 7. In fact, it came with a free upgrade from Dell.
I have blogged about my win8 test drive earlier. It still had the windows start button in that build and had no metro/live tiles. It is almost a year ago.
My dell xps16 has a limit of 4gb and has an Samsung 830 SSD 128gb as laptop upgrade kit (which is really recommended).
Upgrading to windows 8
My first step was to make a backup. I had backups around because SSD can fail in a blink of an eye. As side note: my Samsung drive has never let me down. In fact, it made my Windows 7 really fast!
I ran the upgrade advisor/assistant and uninstalled Ultramon, Visual Studio 2010 (used 2012 anyway) and Office 2010 (used the 2013 preview of Office 365).
So the upgrade was just a next, next finish thing and took about 2 hours and several reboots. After that, my system was good to go.
Reasons to upgrade to win8
1. speed
This is actually enough reasons already to upgrade.
Boot time reduction (cold boot)
More responsive user interface in use
Return from hibernate is faster
File move/copy dialog feels faster and has more details
2. shortcuts
The Windows key is everything! I already used the key a lot in win7, but now even more! Here are the shortcuts I used in Windows 7:
windows key + E for explorer
windows key + M to minimize all and go to desktop
windows key + start typing to launch an application
windows key + F to search a file
windows key + shift + arrow to move window to other screen
windows key + digit to activate pinned application nr# on taskbar
windows key + L to lock the account
windows key + R to run
and now the additional for windows 8:
windows key + C to control the current application (app specific settings)
windows key + W to search in control panel
windows key + X for power/super user quick menu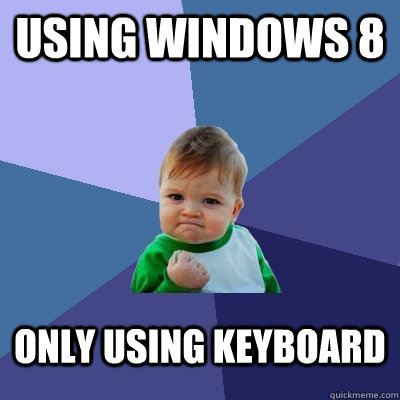 3. Backup
You now have file history! The files are stored like normal files so you can access them easily. You can also set Windows back to a fresh install!
4. Security
Bitlocker in already in pro and also Bitlocker portable. In Windows Vista and Windows 7 you needed the ultimate or enterprise edition to have Bitlocker.
Auto updates are installed in the background. So non-tech people have secure and up to date systems with win8.
5. Other
it has a lot of changes under the hood. With printer drivers and direct X and all those changes make windows 8 fast!
metro/live tiles
don't be scared. I have no touch enabled device and use Visual Studio 2012 and Office 2013 all the time. I only notice the new metro stuff when I login and press the windows key. But it is so responsive and fast that it is not annoying. And you can control everything with the keyboard. Also all the metro stuff! So there is NO reason not to upgrade! I am running Windows 8 in desktop mode the whole day. There are some small applications that give you back a start button. But if you actually require those hacks, you are using the operating system not how it's meant to be used.
So to conclude this post: Upgrade from Windows 7 to 8 today! It's only 30 euro's according to the upgrade assistant. So it's a bargain!
Have fun with your new OS!