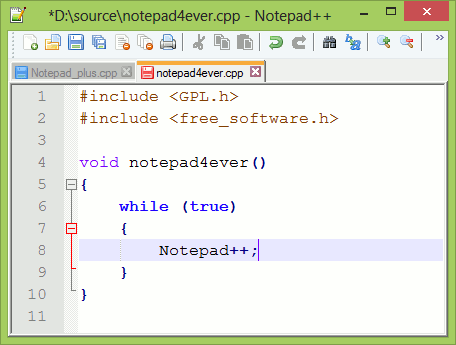 I have been running Windows 8 now for a while and have been using Notepad++ for a long time. It is my favorite notepad replacement. It has great syntax highlighting and is fast and lightweight. The only downside is that there is no updated icon for windows 8.
The current icon is from 2010 and looks great, but it does not fit in the new Microsoft UX design guidelines. There was this free nice looking icon on the web:

source: http://www.softicons.com/free-icons/system-icons/windows-8-metro-icons-by-dakirby309/notepad-icon
Which looks imho better on the Windows 8 desktop. So I have downloaded version 3.6 of resource hacker from this website: http://www.angusj.com/resourcehacker/ direct link to resource hacker 3.6. After installing and launching it you can open for example: C:/Program Files (x86)/Notepad++/notepad++.exe and navigate in the treeview to icon/1
at action you can replace icon with the .ico file which you can download from the softicons url above. Save the 'new' .exe in the same folder as Notepad++ and right click on a .txt file, select 'open with' and navigate to the 'new' .exe.
Another icon option is this image from SalvoGentile from deviantart, it looks nice but you have to convert it to .ico yourself.
Good luck!